Awarded a Top 10% S&P Global ESG Score and Listed as an Industry Mover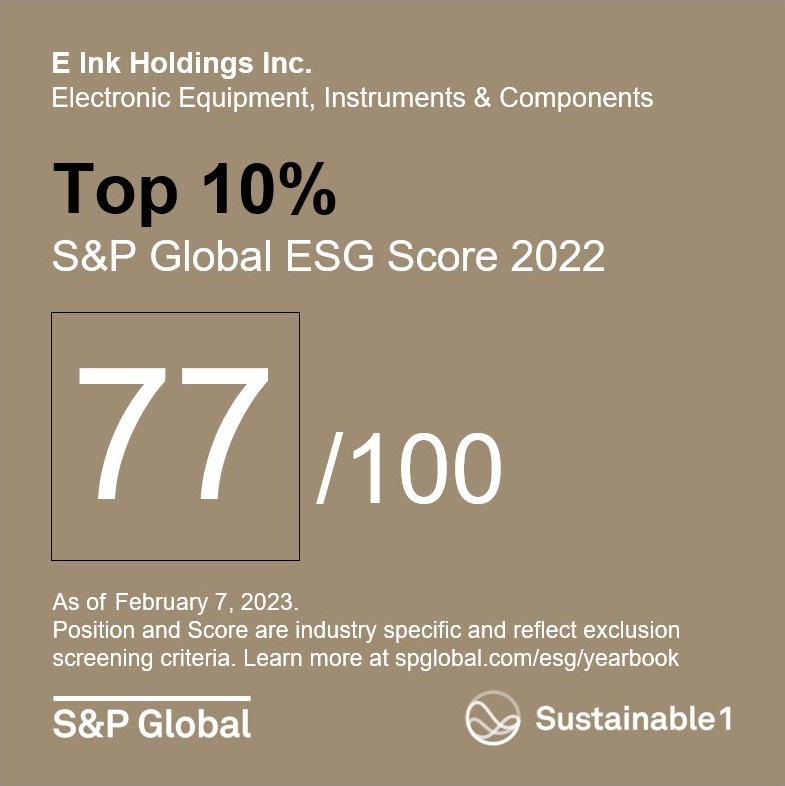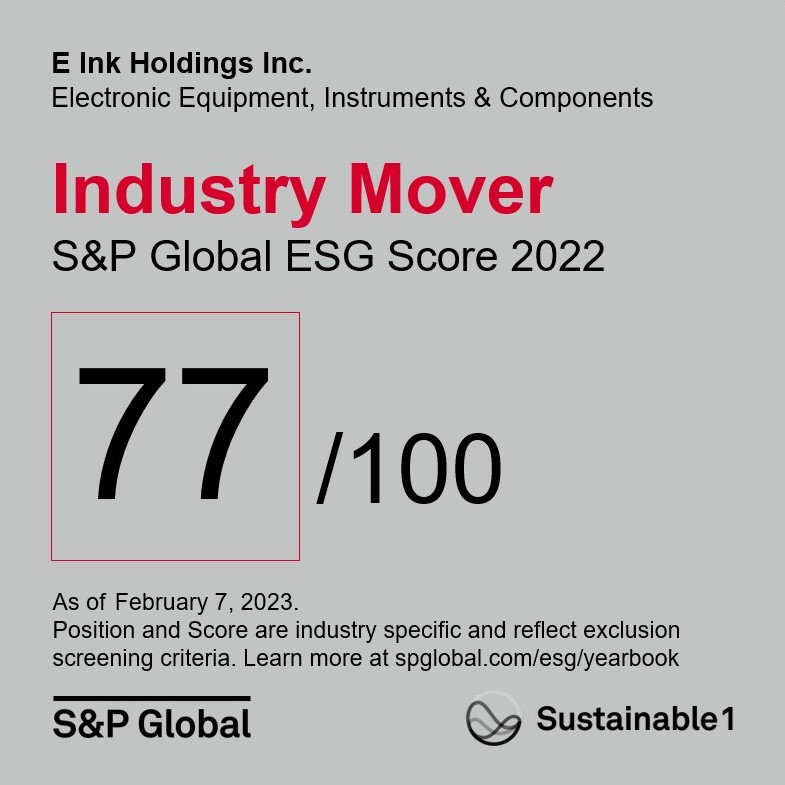 February 8, 2023 – Billerica, MA - E Ink (8069.TW) the originator, pioneer, and global commercial leader in digital paper technology, today announced that it has been selected to appear in the S&P Sustainability Yearbook 2023 Rankings. E Ink was rated as one of the top 10% enterprises in the ITC Electronic Equipment, Instruments & Components sector. E Ink was also recognized as an Industry Mover, showing an improvement in the Company's Global ESG Score of at least 5% over last year, and having achieved the strongest improvement in the defined industry category.
S&P Global evaluates the sustainable development performance of more than 7,500 large-scale enterprises in 61 industries around the world, and selects more than 700 leading enterprises to appear in the Yearbook, based on the results of the Corporate Sustainability Assessment (CSA). According to the performance of the enterprise in its industry field, companies are then ranked into the following categories: Top 1%, Top 5%, Top 10%, or Industry Mover.
"E Ink is honored to be included in the Dow Jones Sustainable World Index and Emerging Market, and to be recognized in the 2023 S&P Global Sustainability Yearbook," said Johnson Lee, CEO of E Ink. "The inclusion of E Ink, alongside with other companies with outstanding global sustainability performance, is affirmation of E Ink's continuous efforts in ESG performance."
Among the 24 assessment aspects in the S&P Global Corporate Sustainability Assessment, E Ink achieved full marks in "policy influence", "environmental report" and "social report". In terms of "Risk and Crisis management", "code of conduct", "environmental policy and management system", "labor practice indicators", "workplace health, safety and hygiene" and "privacy protection", etc., E Ink also ranks as a leader in the electronics, equipment and component industries.
E Ink is committed to reaching RE100 by 2030 and Net Zero by 2040. The Company introduced the use of renewable energy in its global sites, and has optimized power consumption through highly efficient energy management systems. E Ink announced that by December 2022, the global operation and sales sites have achieved RE20, where 20% of the energy used by the company is generated from renewable sources. E Ink's factories and offices in Billerica, Fremont, and South Hadley in the United States, as well as sales offices in Tokyo, Japan, and Seoul, South Korea, have achieved the RE100 goal of using 100% renewable energy.
E Ink is also actively improving carbon reduction from product design and manufacturing processes, and conducts product carbon footprint verification. The Company provides customers with a carbon footprint framework for their ePaper products, and conducts low-carbon ePaper product design and development. According to the evaluation of the FTSE Russell Green revenue 2.0 Data Model1 under the Energy Management Efficiency IT Process sub-sector, E Ink was identified as having 99.98% of Green Revenue in 2021 and has a positive impact on the environment, highlighting the environmental benefits of ePaper products.
In addition, E Ink has been studying the CO2 effects of displays using paper or LCD versus electronic paper (ePaper) displays. Findings have shown significant CO2 savings with the use of E Ink ePaper displays.
As an example, a financial institution with 125 branches saves 16.5 million A4-sized paper sheets each year when they adopt an eNote using E Ink's technology, and contributes approximately 1,100 tons of CO2 reduction each year.
In the past 5 years, 130 million eReaders have been in use globally, replacing the purchase of paper editions of books. It is estimated that paper books would emit more than 100,000 times the CO2 versus eReaders with an E Ink display and LCD devices would emit more than 50 times the CO2 versus eReaders throughout that time.
Over the past seven years, 600 million electronic shelf labels (ESLs) of around three inches in size have been installed worldwide. If it is assumed that the price and information is changed four (4) times a day, ePaper tags can reduce CO2 emissions by 32,000 times versus single-use paper price tags.
Comparing the energy usage of ePaper retail tags versus LCD retail tags over a period of five years, with four updates per day, for every kilowatt hour (KWh) consumed to manufacture the ePaper material a savings of 400 KWh is realized.
E Ink's low power ePaper enables solar-powered ePaper signage and bus stops around the world to be net-zero devices, using 100 percent renewable energy.
About E Ink
E Ink Holdings Inc. (8069.TWO), based on technology from MIT's Media Lab, provides an ideal display medium for applications spanning eReaders and eNotes, retail, home, hospital, transportation, logistics, and more, enabling customers to put displays in locations previously impossible. E Ink's electrophoretic display products make it the worldwide leader for ePaper. Its low power displays enable customers to reach their sustainability goals, and E Ink has pledged using 100% renewable energy in 2030 and reaching net zero carbon emissions by 2040. E Ink is a member of the Climate Pledge, has joined the Science Based Targets Initiative (SBTi), and has been listed as one of the Asia-Pacific Climate Leaders by the Financial Times, Nikkei and Statista in 2022. Listed in Taiwan's Taipei Exchange (TPEx) and the Luxembourg market, E Ink Holdings is now the world's largest supplier of ePaper displays. For more information please visit www.eink.com. E Ink. We Make Surfaces Smart and Green.